Into the loving arms of our new families: Mollie
Robert and I want to tell you how very pleased we are with Mollie. She's a wonderful companion to Robert during the day when he's flat on his back – Mollie seems to be naturally empathetic – and when I get home, Mollie almost wags herself crazy. Mollie is SOOOOO sweet in the morning as we wake up. She is very dear. She's only a baby really, but she is so well behaved in the house and such a good girl. And there's Mollie spirit, which shows itself persistently and keeps us on our toes.
Robert's surgery is on the 29th, and we are eagerly looking forward to his recovery and then taking Mollie on the outings that we enjoy. Thank you again for helping us to connect with such a wonderful puppy.
– Brynn & Robert
Brady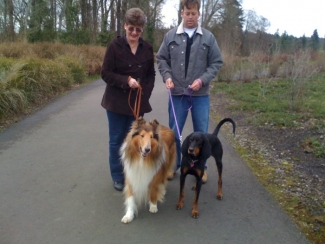 While not a puppy, our beloved senior sire has now retired and is very happy and well loved by his new family and coonhound friend, Savannah. Our thanks to Karen and Harold S. for their dedication and loving attention to Brady's health, welfare, and happiness during his fulfilling retirement years.
We wish you both years of joy with this special dog whose physical beauty, gentle nature, and loving, generous heart has brought us happiness since the day we met him.
Our heartfelt gratitude to Brady's fine breeders, Marcia and Ron Keller, of Marnus Collies for their generosity and trust in sharing Ch.& Int. Ch. Marnus Gold Sovereign, T.C. with us! It has been an honor to know and love him and have him in the Kings Valley breeding program.